Service Dates and Times
HI-LITES &
Upcoming Events
Last Sunday March 4th, 2018:

WHAT AN AMAZING SERVICE WE HAD...
Pastor Larry Martin preached another fine service...

We welcomed several new faces during service
"Thank you for your coming!"
And Jennifer Patterson became a 'new' member of our congregation. Welcome Jennifer... See pic: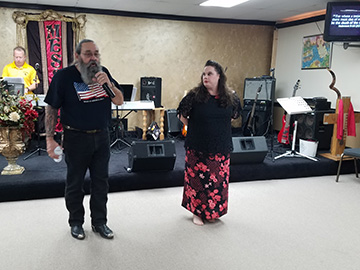 Please enjoy March 4th sermon via our live FACEBOOK post:
Please check us out on FACEBOOK:

This coming Sunday March 11th, 2018:

SERVICES AS USUAL
10 a.m. & 6:30 p.m.
Pastor says:

Jesus is our High Priest!
Sunday morning service will be part 7 of his sermon.
Services start promptly at 10a.m. so please be on time.
Coming Soon:
Saturday May 12th, 2018
BURRUSS MEN'S PRISON
Souls Harbor Church will be conducting a service at Burruss..
If interested in attending or being a part of this prison service,
please be certified with the state of Georgia.
You must have attended class and received a state issued i.d. card for admittance.
Burruss Correctional Training Center
1000 Indian Springs Drive
Forsyth, GA 31029

There will be a church van leaving on Saturday if interested in being a part of this service.
Please contact Anita Taylor for details or questions.