LAST SUNDAY IN EACH MONTH
AFTER CHURCH SERVICE:
(Monthly unless specified)
SOLDIERS OF THE CROSS
motorcycle ministry [M/M] meeting...
Come and join us!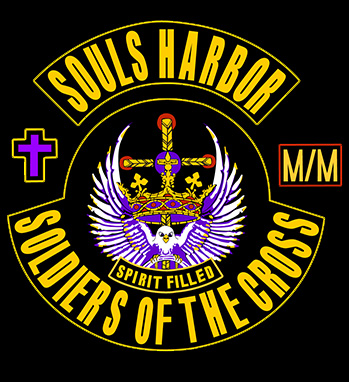 SOLDIERS OF THE CROSS is an anointed team of Bikers who love the Lord and have a deep desire to share that love with those who do and do not know Jesus all across the world.
If you want to join up and be a SOLDIER OF THE CROSS... Come make it be known at our church.......
SOULS HARBOR CHURCH
110 Evergreen Road Canton, Georgia 30114.
Showing up may be easy yet we pray that you being a lifetime committed member of THE SOLDIERS OF THE CROSS is much easier... help us love on prisoners from our International headquarters in Canton, Georgia U.S.A. as we travel around the globe preaching the gospel to all the needy... deep and meaningful life is to be had daily as we grow in the love, knowledge and admonition of our Master and Savior.
Enjoy the deep love of our Messiah and Savior that grows and grows in our souls as we reach out to men, women and children all across the world... we love you!
We attend bike rallies, go into prisons and events with the call to
share the gospel
with those who may not know the
hope
that they can have in Jesus. This ministry is committed to street witnessing and
city outreach
.
CHECK OUT THE MEDIA LINK FREQUENTLY AS NEW PHOTOS OF MINISTRY INCLUDING SOLDIERS OF THE CROSS